Sometimes, political correctness makes me want to yak.
One person complained, so the Kewaunee School District in Wisconsin changed their mascot name from the Indians to the Storm. Rather than risk an expensive lawsuit, they capitulated. What's the country coming to, luvs? I am of Irish and Scottish descent. Shall I take on Notre Dame and the College of Wooster? Surely a shillelagh-brandishing leprechaun or a man in a kilt holding a shield and swinging a sword in a murderous fashion would offend someone, somewhere.
I'd be more offended by these mascot names.
While showing some restraint due to my circumstances, I will go out on a limb and state that Americans are becoming a nation of tattle-tales and boo-hooers. Did it never occur to the woman in Wisconsin who complained about the "Indians" name that the moniker might be a tribute and not a slight? According to Jacqueline Johnson, of the National Congress of American Indians, the problem lies in the complete inaccuracy of most representations by sports teams:
"You'll see icons or pictures that are not reflective of the people or cultures," she says. "They become caricatures, and that's offensive in itself, as it would be to any other race if they were caricatured."
So, what she's saying is that most Americans are apparently too shallow and ignorant to see a caricature as a caricature. (Definition of caricature: A representation in which the subject's distinctive features are deliberately exaggerated to produce a comic effect.) Welp, if caricatures are Big Bads, that takes out the mascot for the Providence Friars, the Pittsburgh Steelers, the Purdue Boilermakers, and countless other icons that, while not depicting race  per se, definitely signify personal identity.
And I ask you, honestly: what is not reflective about the Seminoles mascot? Does this not suggest honor, dignity, power and realism? What could possibly be bad about that? Look at any photo gallery from Native American powwows, and you'll see that this is an accurate representation. So what if some mascots are cutesy or silly? Are we to clutch the pearls and gasp at every cartoony logo? I mean, if we're going that far, we may as well petition the ACLU to force Congress to outlaw all satire. What's good for one is good for all. If you can't take a joke, there'll be no joking.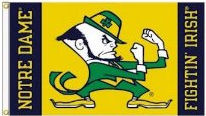 Does the Notre Dame mascot caricature offend me, an Irish American descendant? Heck no. I can see it for what it is. No one is making a hateful statement about a persecuted race. (And don't tell me that the Irish were not disenfranchised in America years ago.)
I guess I'm personally offended because I consider myself extremely attuned to the past and present plight of the Native Americans. And I'll go you one further (and this may make me a pariah in some circles): some of the same people who take offense to Chief Wahoo have no problem at all with defacing, burning and even urinating on the American flag, the quintessential symbol of American freedom for which many died, labeling it "art." But anyone who opposes that behavior is called out as a bigot or nutjob or enemy of personal freedom of expression.
BOOT to the head.
On a completely unrelated, but important, note — John Lennon would have been 70 today. Wow…
Happy weekend, fiends! Alas, I'm off to rehearsal all the live-long day.