I'm supposed to go to the band concert this afternoon. Honestly and truly, I can't pull the trigger. I can't get out of my jammies. I have no will power. I'm a useless blob. Call me Jabba the Hutt.
I texted my band guy and said I wasn't going to make it today, and I am already consumed by guilt. I never miss concerts — even when I don't feel the greatest. What's different about today? I know not. But the thought of getting dressed and ready and driving 19 miles is more than I can bear. What gives?
Today, we need to go to the dog park (even they are lazy and listless today). I need to think about other things and move this bod. I need to write rhythm section charts and parent letters. I need to shake this fog and get ready to be brilliant at dinner tomorrow.
Who knows…maybe I'll change my mind come 1:00, when it would be time to get ready. It won't kill me to try.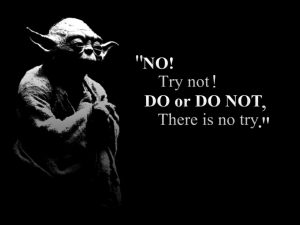 Try…hmmm. What's to "try" about getting dressed and cleaned up and in the car? What am I, an invalid? Recently, someone told me to just "unplug" and think about me for a change. Gotta say, as nice as that sounds, it's not how I was raised, and not how I raised my kids, for good or ill. You always think of others before self. Maybe that's what's got me feeling so guilty about being a lazy dog today, all curled up in a ball, feeling sorry for myself. Can't run away from my nature/nurture.
Do you ever do that? Decide to put yourself first, then end up changing your mind anyway?