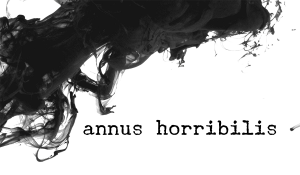 Horrible year.
It's what Queen Elizabeth called 1992. She said, "1992 is not a year on which I shall look back with undiluted pleasure." And no one could blame her, really; '92 saw Windsor Castle burn, royal family marriages disintegrate, and a naughty scandal involving Sarah Ferguson, who was then the Duchess of York.
Personally, I thought 2016-17 was my annus horribilis time. But I don't think 2020 is done with us just yet. Oy. I hope you're all doing well. I'd be lying if I told you I wasn't a little concerned about going back to school. I confess I'm ten kinds of uncomfortable with the prospect of even a half room full of singers. My district has provided me with a plexiglass shield to go in front of my piano, and we'll all be in masks, so I do feel better about that. It's that darn unknown…
I'm about as mentally prepared as I'm going to get. The mask-wearing is pretty standard for me over the last month, so I feel fine doing that. I've got quite the collection of them going — I've found it to be another form of self-expression, and that's been kind of fun!
What bothers me is that too little is known about how children carry and transmit this virus. And of course, with all the adults who will be at school as well, it'll be near-impossible to trace everyone's movements in an ongoing fashion. It's almost inevitable that someone — student or adult — is going to be infected at some point. I hope I'm wrong.
Oh well. I'm going into this with the plan that everything's going to work out. If I don't, I'll lose what's left of my mind.
I just realized that it's been two months since I last wrote to you. And I've been working from home. I need to fix that! Again, my hope is that everyone reading this is doing well, and your families are, too. As the Thriller was wont to say: Onward through the fog.
Much love!