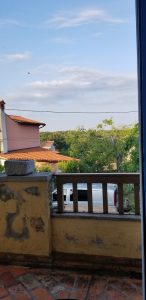 As I sit here at 6:30 a.m. with my door open, smelling the morning air and enjoying the cool breeze, it's hard to believe it's all over. What an unforgettable 13 days of discovery, learning, laughter, friendship, and beauty.
Yesterday morning, Kay and I went out walking around the village of Nova vas. This area was completely destroyed during WWI, and many battles were fought here. We went in search of any sign of the war that still stands. In addition to several monuments erected by grateful citizens, there are remnants everywhere of when soldiers used rocks to build walls and trenches.
The owner of the property where we're staying (awesome guy named Robert) has collected many artifacts over the years, and even had several of the hand grenades incorporated into the fencework at the house. Fascinating.
We hung around and relaxed during the stiflingly hot day, and opted not to go "touristing," but rather stay home and enjoy the peace and quiet, and each other's company. At dinnertime, we drove to Italy and had a delicious meal. After a glass of prosecco and more conversation, it was time for bed.
Now I'm all packed and ready to head to the airport in a couple of hours. I'll take the rest of my time to hang out with B&K and stop by a friend's house for coffee on the way to Venice. Then it's on to Chicago (11 hours later, oy) and Cleveland, where Mavis will be waiting for me at 1:00 in the morning. She's the best!
Now I say a huge thanks to all of you for coming along on this little Odyssey with me. It's been wonderful reading your comments; they always make me smile!
Talk to you stateside. Much love…