What a wonderful time it was in Venice with Kay, getting ridiculously lost notwithstanding. (Easy to do in Venice, where all the streets and different piazzas look pretty much the same.)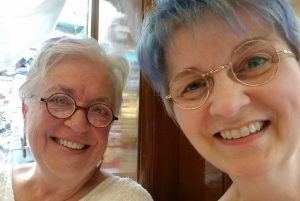 Instead of jamming ourselves onto boats and doing touristy things, we decided to just take in the city, one canal and one street and one restaurant at a time. It enabled us to sit and chat, enjoy great food and each other's company, get caught up on conversation, and just generally take in the surroundings without the press of all of humanity. It was nice.
We did, however, take the opportunity to sit in Piazza San Marcos and listen to music while having a drink at the historic Gran Caffe Lavena. Time well spent! (And yes, they definitely played the theme from The Godfather.)
We had dinner in an out-of-the-way restaurant, talked forever, took a long walk around the shoreline, then called it a night.
This morning, we got up early to walk the city and take photos.
Again, San Marcos and the surrounding areas were nearly empty, and we took advantage of the quiet. Then it was time to go back to the hotel, have breakfast, check out, and schlep it to the train station.
We got horribly lost trying to find the station on foot, so we ended up on a crowded vaporetto, which dumped us where we needed to be — but not in enough time to make our train to Gorizia. So we hung out at the station, had a cold drink, talked, and waited on the breezy platform till the next train was ready to go.
I think Venice is a place I'm glad I visited again after all these years, but it's not a place I will necessarily miss. Perhaps I'll go again after I've retired, so I can experience it when it's not so busy, like in November or March. Still, it was fantastic to reunite with Kay there, and we shared a lot of laughs and great conversation in that beautiful place, which we'll always cherish.
At the end of our 2-hour train ride, we met up with Bob, who drove us to my final destination before home: Slovenia. I will enjoy these last four days — and I know you will enjoy looking at the pictures of this incredibly beautiful place, full of history and stories and family and tradition. And great food — don't forget the food.
Stay tuned!