Today, I learned lots about WWI history, and the role that Slovenia played in world affairs. Bob and Kay were my tour guides and history profs; it was absolutely captivating. And beautiful!
After a huge thunderstorm that lasted all morning, we took off after lunch and went exploring. But first, I have to show you this magical place where I'm staying.
Up in the mountains, directly across the border from Italy, is the tiny country of Slovenia — part of the former Yugoslavia, along with Montenegro, Bosnia-Herzegovina, Croatia, Serbia, and Macedonia. Due to political upheaval in the early 1990s, all six countries split apart, and Yugoslavia was no more. Each country maintains its unique culture and social constructs, and Slovenia is a wonderful conglomeration of both alpine and Italian roots.
I'm staying with B & K in the tiny hamlet of Nova vas, in a beautiful apartment situated among the pine trees. It's like nothing else I've ever experienced.
I'm seeing village life in real time, while enjoying the breathtaking mountain views, churches built in the 1500s, and winding roads that take you to dizzying heights.
First, we drove to Nova Gorica (the next town over), and walked through the town square, had a cappucino at a friend's restaurant, and then took off up a mountain to the old village of Šmartno, with stunning views of the Dolomite and Alpen mountain ranges, and the Adriatic Sea in the distance.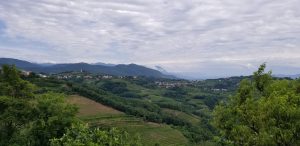 From there, we drove down to the Italian border town of Gorizia, and visited churches and walked the town square. I saw the apartment building where Bob and Kay lived several years ago, and they relived memories of going to small cafes and restaurants during their time there. On the other side of the mountainous area, we drove up to Sveta Gora (Slovene for "sacred mountain"), where they attended church and sang in the choir every Sunday.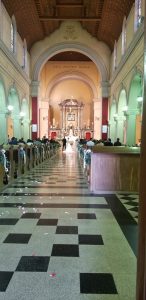 More spectacular views followed, and as a bonus, we eavesdropped on a wedding in progress inside the church.
We took a leisurely drive along the Soca River, and ended up back near Nova vas at the grocery store, where we bought supplies for dinner, went back "home," and cooked a lovely meal for ourselves.
Tomorrow, we'll go to the capital city of Ljubljana, have lunch in the city, and then travel to Podlipa, the home of Bob's Slovenian relatives, for dinner. Looking forward to more beautiful scenery and great conversation.
Ciao! More pictures soon.