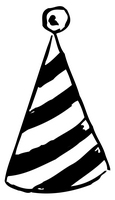 …New Year's Eve?
That's a song, you know. I say that all the time to my students, when I hear a phrase that's part of an old song. That's a song, you know. Sometimes, they look as if they don't believe me and I have to prove it to them. Then they wish they hadn't said anything. HA
But no, really: What are you doing this New Year's Eve? The Thriller and I never seem to think far enough ahead to make reservations anywhere (it's our anniversary today), so we rarely go out. But it's fun anyway, because we usually do something fun around the house. Tonight, we're getting together with Kay and Bob for pizza, snacks and Midnight in Paris. Yay! Have you seen it yet? If not, you must. It's an emergency. It's New Year's Eve, and you need to get your feel-good on.
We won't "ring in the new year" together, as K & B will also be bringing Kay's elderly mother, Miss Kitty, and they will need to get her back at a decent hour. I rarely stay up past 10:30-11:00 lately, and "watching the ball drop" has never really been a big deal to me anyhow. Rather, I just wake up on the 1st and think, "Hey, it's next year."
So what's up for you this New Year's Eve? Anything fun planned?