…that's the sailor's way.
Yes, I'm quoting Willy Wonka sort of quoting William Allingham (Gene Wilder actually said Around the world and…). Did you know that the original Willy Wonka and the Chocolate Factory movie is full of adult-ish literary references? Love it. But that's not what this morning's post is about. I will mince no words; it's about coffee. More importantly: coffee makers. 
Back in, oh, 2000 (?), the Thriller and I bit the huge coffee bullet and purchased one of these. We were both coffee hounds, and loved how good the brew smelled and tasted every morning. We were (and still are) even known to make a pot in the afternoon or early evening. I can't remember exactly why, but when the Keurigs came out, I felt I needed to have one, so we got rid of the big bad Bunn. Meh. The Keurig was fine; I even had one in my classroom. However, we were both bothered by the incredible amount of plastic waste created by the then-unrecyclable K-Cups. So, the hunt continued.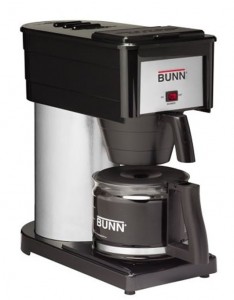 The Thriller bought a standard Mr. Coffee machine, and all was well until I spied a Verismo on TV. Of course, being a self-proclaimed latte aficionada, I had to have one, and the pods were recyclable. So, make room on the counter for the new machine. Again, meh. Turns out I didn't love it as much as I thought I would. So, back in the box it went, and we decided to get a smaller, counter-top version of the Bunn, which we are still using (pictured at left).
But check this out. In the almost two years we've had this unit, a slow-but-sure transformation has taken place. Does this look strange to you? I mean, I know our floors may be a bit out of level in places, but this is extreme. It's gotten to the point where I have to physically lift the top of the unit to shove the decanter into its place on the heating plate. Bizarro. It has to go.
So, what did we do this morning? We bit the huge coffee bullet and purchased one of these.
Have you ever done that? Gone everywhere and home again? Bonked yourself on the head and said, "Why didn't I just stick with what worked?"
Oh, such enormous problems today…psh.
PS — I still have the Verismo. I'll sell it to you, on the cheap.