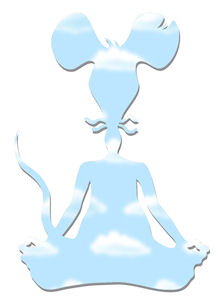 Let. It. Go.
Yesterday was rough. We had a district-wide staff meeting about budget cuts (and possibly — likely, actually — staff cuts). Hard to hear that people and programs might have to go. And I'd be lying if I said that I didn't think about the fact that the arts are often the first thing to get the old heave-ho.
Then, on Facebook last night, a well-meaning parent posted a link to all of our salaries, and I noticed that a couple of the listings (including mine) on this non-district-affiliated website were wrong.
Say something? Let it go?
B. Definitely B.
It was an unpleasant meeting yesterday, for both administration and staff. People came away more confused and worried. And now we wait until the board of education makes its decisions. We're looking at about a month-long wait, if not longer, which bothers me, because it's the months of March and April when many jobs come open due to plans for retirement. Those tend to be the better jobs, and they're scooped up right away. If I'm on the chopping block, I want to know as soon as possible.
It's not a good time for us (and many school districts) right now.
But…I need to let it go. I am neither the first nor the last person to face the possibility of a reduction in force, and just like the millions of others before me, if it happens, I will deal with it. And there's no sense in packin' it in when there might not be a need for it.
So today, I let it go. I resolve to stay true to my 2013 motto, and while keeping a watchful eye on my future, I won't add needless stress.
Cripes, I'm doing a show right now — I got that in spades.
Thoughts for a Thursday…