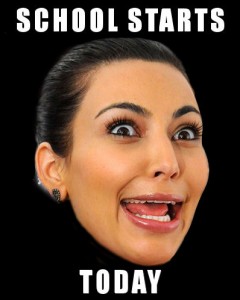 Yes, Kim, I know. I'm fixing to jet to the school house for the students' first day back. Definitely looking forward to seeing everyone and getting some initial sounds out of what I hope will be a few good ensembles this year.
Also on the schedule is my dual enrollment history class (Western "classical" music from circa 900 through 1940), which I enjoy very much.
I can't remember a year when I didn't look forward to hitting that first day — either as a teacher or a student. Subsequent days had varying levels of enthusiasm

but I do love what I do, and can't really imagine having chosen another career.
I don't mind when people razz me good-naturedly about having "summers off" (a misnomer). I remind them that my low salary has the last laugh, so all jokes about my cushy life are taken with a smile when I get a notion to gripe about having to get up at 4:45 every morning after a summer of sleeping in until, oh, 5:45 every morning.
What was your favorite part about starting school? Seriously, a huge memory from my childhood was the fall weather. It smelled so good outside. Of course, we never started school in August back in the 60s. I'm not sure exactly when it was, but I'm certain it was well after Labor Day, because I remember going to and from school wearing a coat. Another lasting memory: I loved the way my 3rd grade classroom smelled when we were working with construction paper and glue. My teacher, Miss Rinehart, wore perfume I loved. I liked the (now-unpopular and disproved) round-robin reading time, and always volunteered to read first. ("Let's give someone else a turn now, OK?")
I didn't enjoy recess, because I was afraid of some boys who always picked on me. They were not nice. They're probably corporate presidents now.
I hope your week is going well, fiends. I'll check in after the craziness!