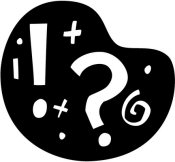 You go away for a while, and when you come back, things are all janky. That'll teach me to abandon this place. I've been thinking about writing to you every day, but man, life has been one big pair of bossy pants. Three weeks without nonsense from me, and you know it's serious.
When I logged into WordPress this morning, my theme had gone away. *p00f* My standard header was gone, having been replaced by WordPress's concert b-flat beach umbrella picture. Custom logo was nowhere to be found on a media search, and I still can't find it. I haven't gotten into the site guts via FTP yet, but that's on the menu. Until then, this understudy will have to suffice. Strange, eh? And my media plugins are acting all ooky, too (sorry about any strange picture behavior — gotta check this out). Ghosties in the code.
So, what's news? It's been too long since we've checked in with each other. As I've been up since 2:55, I was able to amass some randomness for you. Behold:
You'll get a little nostalgic kick out of these old cell phone commercials. Haha. I remember when I thought I was oh so de rigueur for having one of these, then later, a snazzy little Razr flip phone, tricked out in Fabs skin. Shoo-ee. Anyway, the commercials are funny. Have a looksee.
There hasn't been a whole lot of good sleep happening at the Fink house lately. It's Pax. Pacing, crying, panting most of the night, and often during the day as well. We can't figure it out; he's fed, watered, loved, seemingly healthy, and not in pain that we can see. So, the vet was called yesterday, and puppy will start on his anxiety/panic attack meds as soon as they arrive. We hate putting him on drugs, but he is clearly miserable while going through this, and so are his humans, who have tried just about everything they know to mitigate his symptoms. Stuff's gotta stop.
Did you know that Planned Parenthood's government dollars **do not fund** abortions, and haven't for 40 years? They do, however, fund many other services. In fact, I, as a married, churchgoing young woman in my twenties with two small children, would have been lost without Planned Parenthood back in the 80s. My miserable excuse for health insurance did not cover birth control, and we were poor as church mice. PP allowed me to pay on a sliding scale, unlike the doctor's office and pharmacy. I remain grateful to them, and I know I'm not alone.
Cedar Point's at it again. Tallest, fastest, everything-est. The new-in-2016 Valravn looks kind of fun. View the video in full screen mode.
Hey, it's Coffee Day, in case you haven't heard (although every day is coffee day around here). Go git yer freebs.
Speaking of getting a move on…it's time to haul it upstairs to the shower. Have a great Tunesday, fiends — glad to be back among you!
RF, ghost(code) hunter