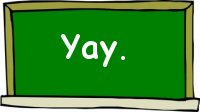 Yeah, it's been a fun vacation, but now it's here — the day I've been both anticipating and dreading.
Back for Act II, where it really gets crazy.
Surprisingly, the flu thing is still hanging on by a thread. My intention is to just forget about it once rehearsals start.
Christmas Resolutions are in full effect. What resolutions have you made? Any?
Fink to the showers. Have a good Monday, fiends.