…that's fit to print on a Tuesday. But first, an observation.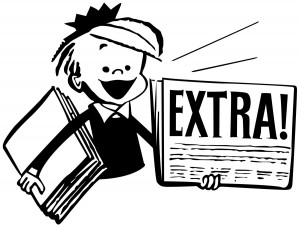 You may have seen the commercial for, I dunno, some arthritis medication that begins with the line, "A body at rest tends to stay at rest."  Well I am here to tell you that the statement is true. After four days off from the routine of school and rehearsals, it's been reeeeeally difficult getting back into the routine. I go until 8:30 tonight, and I'm dreading it. Not the rehearsing, mind; just the staying-at-school part. Actually, the staying awake  part. HA. Anyway, strange.
Onward to the news.
Isn't it terrible that when you want time to fly, it crawls, and when you want it to crawl…
I'm outta here. Find some reasons to enjoy another beautiful day, fiends. Thassanorder.
FO