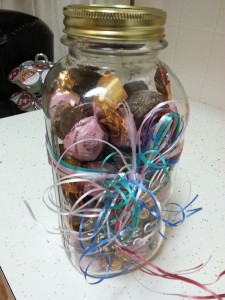 So remember yesterday, when I was all crabby and stuff? I had a reasonably bad attitude when I got to school, and it really didn't improve much as the day went on. It wasn't anything the kids did; actually, rehearsals went pretty well all day long. It was the schedule for the musical, things at school being affected by budget cuts…it was sad all around.
And then, this. A parent stops by with a huge Ball jar full of Godiva chocolates.

Shortly before that, Stoney and I ironed out the details for the musical. We now have an opening date.
It's a bit different this year (no Friday opening night, but rather a Saturday matinee, Saturday night, and Sunday matinee performance), but we're fine with it. It's going to work. And I got my awesome, top-drawer pit players, which makes me happy. Fiddler will be a fun show to put together.
I hope. But if not, I have extra chocolate — at least for now. Pace yourself, Finky. Pace yourself. Two a day.