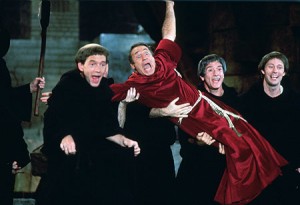 It's what you auto not do, but you do anyway.

I know I auto not eat late at night, but last night I did it anyway. And guess what? Nightmares — all night. Again. Happens every time, and I knew it would happen this time, too — so why did I have dinner at 9:15 p.m.? Oy.
But hey, it's overwith and I'm awake (although the stupid Droid somehow disconnected from the charger last night and I woke up on my own at 5:30), so it's another day at the school house, and I'm ready to hit it.
Today's goal: get through high school choir rehearsal just once this week without lapsing into the process by which the nuclei of my brain's atoms split into smaller parts and produce dangerous gamma rays, resulting in very large — and, by all modern standards, unsafe — amounts of energy.
*bing*
Oh! And Stoney and I have decided on a show for this year, and I'm surprised we hadn't considered it before. Should be fun. Challenging, but fun.
Hey now, you have a great Wednesday. It's a bizzy one here in Finkville. School, the all-important hair-dyeing and cuttage, a visit with the Js (yay!), then more DT work until bedtime. Psh. Piece-a cake. Piece-a-pie. But as for my high school students…
The Inquisition's here and it's here to staaaaaaaaaaaaay!