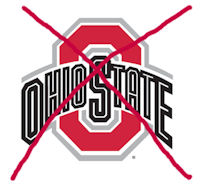 Now listen here.
I'm not one to poo-poo the likes and dislikes of others — although the favor is not often returned, if you know what I mean. Case in point: my love for the Browns and dislike of the Ohio State Buckeyes. People give me grief about it alla time. Do I give other people the evil eye because they like the St*****s or the Vikings? No. To each his/her own, and I'm happy that the world is a diverse playground. After all, if there were no Pittsburgh team, to whom would the Browns customarily lose in historic rivalry games? I mean, come on.
HOWEVER…
There is something that is so baffling to me — so utterly incomprehensible on a positively cellular level — there are almost no words for it.
Almost.
I speak about caviar. Fish ovum, scooped out of the sturgeon's girly parts. *blink*
~
They also do it to salmon:
I'm sure there are Finkites who will say, "Hey, I like caviar," or "Your taste is archaic," or "Just like coffee, it's an acquired taste." That's all fine. I mean, people in, say, India, might think that anyone who eats marshmallow creme (Yay for Fluff!) is a couple of rupees short. I don't mind. But I still can't process the caviar thing. Same goes for bird soup (although I eat chicken soup — I guess it's the visible beaks in the broth that trip the creepy meter) and chicken heads.
I should probably be a vegetarian, but I think that actually liking vegetables is a prerequisite. Snap.
Hey, speaking of food…Mavis and Hannah are coming over today for some dandy Christmas baking fun. There's something I can wrap my taste buds around! Then Kay and I are going to see Jim Carrey's A Christmas Carol. Has anyone seen it yet?
FO
Caviar photos: Amazon.com