We had a fantastic day in Arizona yesterday. The drive through the mountains out of Flagstaff was gorgeous.
Interestingly, the Old Road doesn't offer as much in Arizona, compared to the top two states in our opinion so far (Illinois and Missouri). But we went off-road and saw lots of wonderful ruins. For the record, Winslow was a bit of a disappointment, but I'm glad we stopped.
There was Arizona:
Then…California: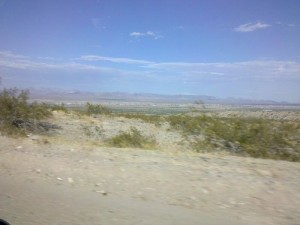 The desert — beautiful, but desolate. And talk about hot. I realized yesterday I've never felt heat before. I didn't know hot till last night and today:
At least it's only going to be 95 in San Bernardino today. Hey…San Bernardino…we're almost to the end! I just realized that, sitting here at 6:50 in the morning, wrapped in a blanket because the Thriller has the AC down to about 65. Grr. But he's a good boy — he went out into the 92-degree morning to find coffee and breakfast for us.
Needles is hot. Did I mention this?
More from the Pacific shores tomorrow. Stay cool!