It's been a wonderful whirlwind tour! We were supposed to hit Gettysburg today, but last night, the Thriller wasn't feeling well at all (he's some better today, thankfully), and after checking the weather forecast, neither of us was particularly enthusiastic about trudging around the battlefield in the mid-80s and thunderstorms, so we pulled the trigger and canceled the hotel at the last minute. I'm glad; not only am I missing Remy (pathetic, I  know), but school thoughts are really starting to creep into my consciousness and take over. I need to get home and get busy; 18 days until the year begins, and I've done next to nothing to prepare.
Anyway…………….speaking of hotel rooms, dang if the Thriller didn't luck out again. Our room wasn't ready when we checked in, so they offered us a bigger, nicer one with an ocean view. All comped, so yay! If only Caesars were as kind with their video poker…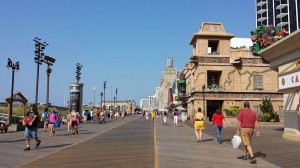 After we spent our egg of gambling money, we took a stroll on the Boardwalk. It hasn't changed at all since we were here last, around 6-7  years ago. It's a beautiful place, dedicated solely to entertainment and leisure, with casinos/hotels on one side of the massive wooden sidewalk, and the sea on the other.
Fortunately, they comped the Thriller for meals as well, so we dove into their enormous buffet. I was going to take photos of the place, but, you know…hand carved roast beef, potatoes, Caesar salad, crusty bread with butter, and mini chocolate cakes and cherry cheesecake sort of derailed my concentration.
I thought it'd be silly fun to give you a visual on how we do our road trip hotel arrangements. I have some rules:
King size bed
Absolutely no exterior door hotels (I know that sounds snooty, but I have had way too many bad experiences at Motel 6s and Days Inns…never again)
Room service is preferred
Outside of that, I'm totally open.

Regardless, this is what the sleeping arrangements look like. Yes, that's an electric blanket. I don't leave home without it, because if I do, it invariably results in a battle for control of the thermostat. Ain't nobody got time for that.
OK, time to pack up and get out of here. Probably safe to leave now, as we hope that as of 10 a.m., rush hour is mostly overwith in Philly.
See you soon, fiends! We're on the road again.