Shew, what a great day! It's 8:50 p.m. and I'm ready to collapse, but I have to write to you about the beautiful memories and everything we experienced.
The train ride to Salzburg from Vienna was fun and relaxing, and as we traveled west, the mountains began to slowly creep into view. Pro tip: when riding the rails, book 1st class. It's not that much more money, the atmosphere is peaceful, and in our case this time, we got to ride on the upper deck of the train, which really provided some fantastic views.
When we reached the central train station, we hailed a taxi to take us to our hotel, which is located right in the middle of the oldest part of the city. Score! We didn't waste much time getting settled in our rooms and venturing out. We knew it was going to rain later in the day, so the Sound of Music stops were first on the list, as they are all outside.
Mirabell gardens is where several scenes from "Do-Re-Mi" were filmed, and it was surreal seeing them up close and in person. The palace and surrounding grounds are right in the center of town, so we started there.
Do you recognize any of these places? Of course you do.
We went to the Feldensreitschule, where the final festival concert was filmed, but were told at the gate that it was closed. Boo. Tomorrow, we plan to take the 40-minute drive out to Schloss Frohnburg, which served as the von Trapp family home in the movie.
Time and weather prevented us from seeing all the movie locations, but the ones we saw were fun and brought back some memories for me on more than one level. Suzanne said, "When you watched this movie as a kid, did you ever think you'd be standing in some of the exact places it was filmed?" No, I didn't!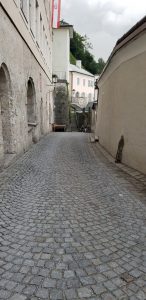 Perhaps the neatest discovery was the one we made totally by accident. After having a fabulous dinner at Steiglskeller in the old city, we walked down the steep cobblestone street to grab a ride back to the hotel (unlike tourist locations in the US, many cities in Europe close down at 5 or 6 p.m.). When we reached the bottom of the hill, Suzanne stopped in her tracks and said, "This is it! This is the place."
Right in front of us was St. Peter's Cemetery and catacombs — the medieval monastery to which the von Trapp fa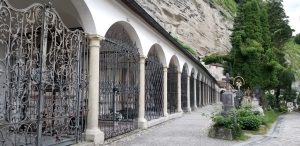 mily fled to hide from the Nazis before escaping to Switzerland. What a find!
Of course, the oldest working monastery in Austria wasn't used for filming, but rather the production company built a replica and filmed the scene in Hollywood. Still, it was great to stumble upon this gem of a location around which the entire city of Salzburg was built. We stood on old, holy ground and admired the silence and beauty.
Tomorrow, we'll take in some Mozart history and finish looking up Sound of Music locations, eat some more great food (oy I am going to need to go on a diet when I get home), and spend one last evening together before Suzanne and I say goodbye for another summer, and I continue on my journey alone for a few days.
It's so wonderful having you all along — I promise I will respond to all your kind comments! More to come tomorrow…
Much love