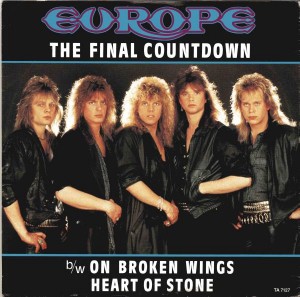 It's the final countdowwwwwwwwn. That was a good song. Ah, memories of drum machine beats and mall hair…
A week from tomorrow, we begin what could be our final Odyssey, since the Thriller is now done with seminary (yay!) and we likely won't be able to take such large chunks of time to break away from here on out. (We'll actually save money for home improvement chores that have laid abandoned for the last four years as well, heh.)
Our weekend and Monday were spent in various stages of work and play. It's very much like me to put off the initial packing ceremonies until the last 24 hours before leaving, but I need to be more disciplined this year. Since we'll be in Mississippi, Texas and Oklahoma, followed by Montana, Idaho and Washington, we'll need to dress for two different seasons — maybe three. I'm devoting an entire suitcase to our sweats, sweatshirts and jeans.
This is where I ask my fellow travelers how they make the best use of space. My main peeve is schlepping the entire universe into the hotel every night. How to consolidate? How to predict? It's not a huge issue in the world scheme of things, but I do wonder how best to streamline. I'm not good at that at all. I struggle with compartmentalization, as many of you know.
But I have what — five or so days? — to procrastinate on that.

Today is filled up with other stuff, not the least of which is trying to get a quick viz in with all three grandsons. Those become more and more important as Go Time approaches.
Non sequitur: After seeing the successes of RtB fiends Suzanne and RD with their bikes, and talking with Seamus about it, I am considering trying biking again. (Bicycles and I generally do not get along, for a couple of reasons.) What should I get? Whatever it is, it will have to be of the 24-inch variety. Little feet have to be able to touch the ground.
All right, that's enough. It's 6:18 a.m. — morning's half gone. Have a good one today, fiends!
FO