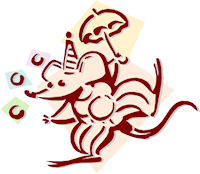 At long last, finally, it's about time, where have you been, I've waited ten years, I thought you'd never get here.
Finkday.
Wow. The longest five days in the history of the world. Why do some weeks fly, and others drag? What is it about our temporal senses that changes with activity? Why do we complain when time flies, and complain when it drags? Answer me my questions three.
So, what's up for your weekend? Did you know that Thursday is Thanksgiving already? Where did the last month go? Just when you want stuff to hurry up and get here, it's here and gone. Is this the way the rest of my life is going to play out? I'm afraid so. Today, I say we focus on sniffing those roses.
Armchair wisdom from the Fink at 5:30 a.m.  You'd think I was all peppy & stuff because I will see my grandsons this weekend. Oh wait…