You figured today's post would be about Remy, didn't you?

Day One of our lives together went very well, all things considered. The poor thing was exhausted (as was his family), and we could tell he was starting to really frazzle by the time he was back home from the groomer, around 5 p.m. Some initial observations:
1. This dog is terrified of many things. And by "terrified," I mean he drops to the floor and buries his nose if there's nowhere to run, and if there is someplace "safe" to escape, he makes a beeline for it. (In our house, it's underneath our living room coffee table, and he knocked Daddy clean over from a crouching position trying to get there.) Right now, his biggest fear is the Thriller. Remy turns into a flipped-out scaredy-cat when he's in the room. We can only wonder why he's this way; it could be bad history with men, or it could be something totally unrelated to his past, and the Thriller could just be one scary dude. (Not bloody likely.) However, I do know that puppies are born curious, open and playful — not frightened and suspicious.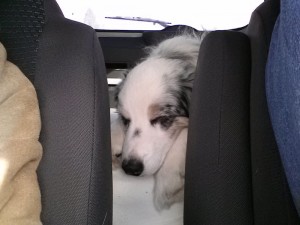 2. The ride home was completely uneventful. It seemed to us that riding in the car was not a brand new experience for him, as he looked around for a bit, paced back and forth, then conked out. When he woke up, he was calm and quiet, and allowed me to chat him up a bit.
3. Not knowing anything about what his pre-shelter life was like, we wanted to take it easy on his sensory threshold, so we stayed basically within a three-room radius last night (living, dining, kitchen). He seemed to be OK with this, and found my electric blanket particularly inviting. Outside of that, it was under the coffee table.
4. The Thriller did have some success in feeding him. Remy was afraid to approach his feeding stand for eating — drinking was fine, but the identical food bowl right next to it freaked him out, go figure — so the Thriller fed him by hand in the living room. That worked, but if he walked out and came back into the room five minutes later, Pup had forgotten all about the fun food experience and went back to slinking under the table. This will take some patience.
5. One. Smart. Dog. Since we were up early this morning, I decided to try a clicker session right out of the gate. It took him only seven clicks to learn "sit." 
6. He's either crate-trained or housebroken, at least from what we've observed over the last 20 hours we've had him.
7. He is worth every minute and every penny we spend with and on him. The Thriller is not taking Remy's fear personally (which, I told him, was a good thing, because if the tables were turned and it was me he feared, I'd be a bawling, feelings-hurt mess), and we know to not reward the frightened behavior by trying to "talk" Remy out of it. Instead, he will use the clicker and training treats.
We're getting there! Not there yet, but still enjoying this new adventure.
Fink, dog whisperer in training