*yawn*
Man, I overslept today. I hate that.
This will be a bit of a diversion from the usual Finkness. Today I am going to give a lesson to those interested. Ok, I'm also doing it because I've never done anything remotely artistic (visually) in my life, so this was a milestone for me.
While some may think this lesson is geared to women, I will say that any man (if he is smart) could do it as well. As long as a woman supervises.
The photos below were all taken at my house. My daughters, Sarah and Jessie, and sister Mavis joined me in the project. It was fun, and you should try it if you have a baby shower to attend. So, without further ado:
How to Make a Diaper Cake
(click on the photos for larger views)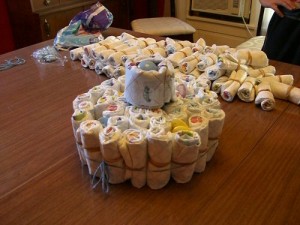 At this point, get ready to insert rattles, bathtub toys, teething rings, bootie socks, little bottles of lotion and shampoo, gift cards, bibs, whatever, into the little open spaces as surprises that the parents will find as they use the diapers and the cake is dismantled. Wrap up the 2nd tier with a blanket and some ribbon, as shown above. Now, for the final tier:
Ok, now it's your turn. Mark, get set, go.
Yikes, it's 9 a.m. and I've nothing done (except this lovely picture lesson, which I enjoyed doing). Have a super Tuesday.
FO