Hello, 
Is there anybody in there? 
Just nod if you can hear me 
Is there anyone home?
  ~ Comfortably Numb (Roger Waters, David Gilmour)
So check out the numbers from this week. Odd…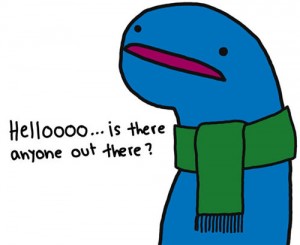 RtB usually gets between 100 and 250 hits a day. (Out of the 2.4 billion internet users on the planet, that's my share. I am a worldwide phenomenon.) But look at the stats from the last three days. Hmmm. *scratchy head*  *underarm sniff*
By the way — I'm totally happy with my tiny little readership. I don't — and won't — advertise in order to get views. Those of you who are my Facebook friends already know I rarely plug a blog post through a share. So I write almost every day to feed my sad addiction to writing, comments or no. Are writers depressing? I think so, sometimes. But hey…maybe it's not what I'm saying, but rather, what I'm not saying. Have I lost my audience?
I remember a day when I was jacked up about research. Then I started the doctoral work and became so incredibly, completely, abysmally fed up with research, I began writing about more personal, "everyday" subjects. Maybe that's my downfall; I'm just not informative anymore — no longer your one-stop location for articulate and compendious thoughts. Yesterday's laundry.
Or people could just be busy.

Right, then. I shall awaken my inner philomath. Release the Kraken! Ready, steady, go.