Happy 2014, my fiends. Hard to believe this is my sixth New Year's greeting to you. Did any of you who've been with me since the get-go (February 2008) think I'd ever last this long? Yeah, me neither.
And yet, here I am, and here you are — old fiends and new. I like it.
I make it a habit to revisit my previous NYD posts, linking backwards, all the way to 2009. What I like most is not seeing whether or not I've fulfilled every promise or maintained every resolution. Rather, it's seeing the feedback from readers that bakes, takes and eats the cake for me. My wish for 2014 is to get (and somehow maintain, although I know that will be my job) more conversation going here on a regular basis. That's my New Year's Resolution: write more, talk more, listen more, communicate more. Which translates to drink more espresso. Fist pull.
But hey — on to bigger and better this morning…
First, the Thriller surprised me with this on our anniversary last night. Suffice to say it's much more beautiful in real life. I was speechless. He's a keeper, even if he didn't spoil me with pearls and diamonds once in awhile.
Second, we have an update on a situation that's been occupying our every thought since 30 December at 8:30 a.m.
Since losing our precious Rousseau back in April, we've been sort of on the fence about whether or not we'd want to have another dog in the house, simply because neither of us could fathom ever loving another animal as much as we loved him. We'd pretty much sworn off thinking about it, even though the Thriller was still receiving regular email updates from pet rescue sites all over the country. All was well until he sent me an email with a picture of a dog attached.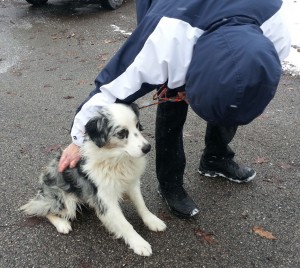 Enter Remington, the pup that will change our lives, providing his owners don't call to claim him in the next 48 hours. If that happens, we're trying to be prepared, and we'll be sad, but we'll know it just wasn't in the cards. However, the gal at the rescue (who's been doing the job for many years) says it is rare that a dog will be reclaimed if the owners don't contact a local shelter within hours of it going missing. For us, that's good news, because he's been there one week today, and they've heard nothing. We hope it stays that way.
This is a purebred blue merle Australian Shepherd. If he was a general, happy mutt, we wouldn't be as suspicious. But he's not been neutered, and he's full grown, which suggests several unlovely scenarios. Even so, he's beyond sweet, very submissive, and beautiful to look at, even though his coat is an absolute mess and he's filthy.
Another telltale sign manifested when we reached out to pet him, and he immediately lay down with his nose between his paws. This little boy's likely been hit, but lemmetellya, he'll never be hit again. By anyone. Still, when I sat down on the bench in the reception area, he leaned with all his weight up against my leg and rested his head — just like Rousseau used to do. I think I was a goner at that point…
Anyway, the update — get to the update, wouldya?
We were told originally that we couldn't take him home until after he'd been neutered, and that the first available date for surgery would be Tuesday. That bothered the gal at the rescue (and us, too), because she didn't want Remy to spend another weekend at the pound, where he is clearly terrified. Trust me, we did not want to leave that place without him yesterday.
So, the Thriller emailed Trish at the rescue after we got home yesterday, saying if there was any way to expedite the adoption on Friday, we would be amenable. She responded late last night, saying that she had arranged for Remy to be adopted out to us on Friday morning first thing, provided we gave our word that we would schedule the neutering on our own. Wow! Seeing as how the neutering is a condition of adoption, they sure are stepping out in faith on our behalf. But Trish told us it was our story (about losing Rousseau) that really touched her heart, and she "had a feeling" about us being the right choice for Remington.
And that we are. I hope he will grow to love us and our family, and that the training/re-training process goes smoothly.
Cuz you know, Mama Fink's shoe collection is off limits.  Mmm-hm.
So that's the update for now. My hope is that the Youngstown area isn't so buried in snow on Friday morning that we can't get through the frozen tundra to pick up this boy. I'm thinking that there's little that could stop us, though.

==================
Until a code issue is straightened out with my new theme, you will need to click on the post title of any blog post to see or leave comments. Please do; it'll make me happy.