Howdy from the road, fiends! (Tethering is fun.)
At this moment, we're driving along Old 66; far away from the interstate. Towns of 600 and 800 population dot the landscape. But I have to back up a bit first.
Joliet was our first stop, as you know. We went downtown this morning after breakfast and walked around. Some quaint shops and a couple of interesting things to see, but the Route 66 museums and visitor centers were not yet open at 7 a.m. on a Sunday. So we walked and looked and didn't hurry.
This isn't Route 66-related, but it was a sight to behold all the same. Take a look at the photos of Joliet Township High School — although they won't do the place justice. The building — built in 1901 — takes up an entire city block. Look at the architecture. Kind of like Gothic/Roman meets medieval haunted castle meets Mansfield Correctional Institution. We wished that it would have been open for a tour.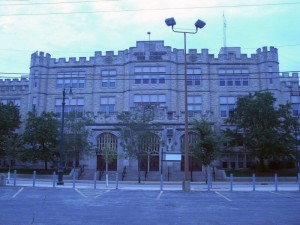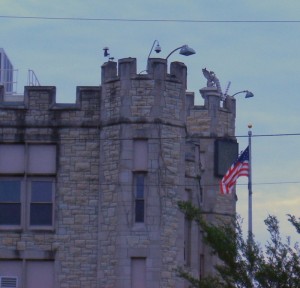 We also experienced our first Muffler Man sighting, although we couldn't get inside the minor league ballpark (where the Joliet Jackhammers play) to see it up close. So I peered through the stadium chain link fence: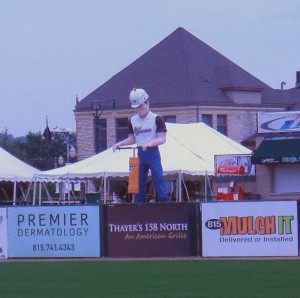 Anyway, onward we went, off the beaten trail and onto Historic 66, which runs right alongside the interstate in many places.
First stop was Wilmington, IL. Of course, we had to get a photo taken at our second Muffler Man discovery: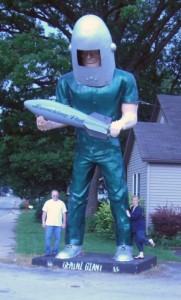 On the way to Odell right now, to unearth an old 1930s Sinclair gas station. More later — we love not being in a hurry to get somewhere. Weird feeling….
XO