As a jazz singer, I'm probably committing some kind of sacrilege here; an unforgivable sin. But I will go on record as saying that Billie Holiday — considered by many to be one of the greatest jazz vocalists of all time — was overrated.
Now don't get me wrong; I cut my singing teeth on her albums back in the 70s. There was a time when I thought she was the be-all, end-all. But even then, I think I loved her because that's what I thought I was supposed to do. Everybody genuflected in front of the great Lady Day, didn't they? Don't they still?
But as I grew older, my blind discipleship faded. For some reason, her voice started to grate on me. I basically stopped listening to her records, and focused instead on Ella Fitzgerald, Sarah Vaughan, Mel Tormé and Cleo Laine, to name a few, and of course, Sinatra, Bennett and Martin (although they weren't jazz singers – nor did they profess to be).
So am I just mental? Maybe. But I submit that her voice — while strikingly different — was flawed, to wit:
She had a range of about an octave (a little more when she wasn't drunk or high, which was almost never).
She couldn't hold a note longer than a few seconds. She didn't have the control to sustain it.
You could line up a dozen of her songs, and hear the same 3-note vocal ending: 9-6-1.
There are songs where her "lazy" delivery sounds slurred and sloppy.
It was not a strong voice. It was reedy and sometimes dreadfully thin. She admired Bessie Smith, but could never muster half her power.
There was rarely a grounded, cellular-level swing feel to her delivery. I know it really wasn't in vogue at the time, but it seems she just skipped lightly over the band swinging, instead of swinging hard herself.
Maybe it was because she sang with all the hot jazz bands back then (Ellington, Armstrong, Goodman) that she was automatically given the name "jazz singer." I'd classify her more as a female crooner. She could definitely turn a phrase — one hearing of "Strange Fruit" or "These Foolish Things" will tell you that — but to put her on the same level as Ella and Sarah? Nothin' doin'. They could sing her clean off the stage.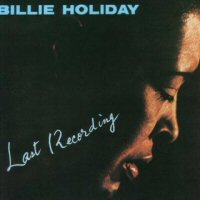 The one exception to all of it was her talent for torch. The girl could sing a song with such longing and sadness, it would make you want to weep. And the melancholy was genuine; she spent her entire life being mercilessly abused by men in a hundred different ways. Nothing makes "the blues" authentic like real-life experience, and she had that in spades.
Of course, like so many other artists then and now, her demise came by way of drug addiction (which also wreaked major havoc on her voice). Indeed, she was so addicted to heroin that when she went to the hospital for liver and heart problems weeks before she died in 1959, the police showed up and arrested her for possession right there at her bedside.
My heart goes out to her because she tried — over and over and over — to make something good of her life (which, sadly, lasted only 44 years), and she still stands as a pervasive influence to many jazz singers who came after her (myself included). All of us girls owe her a huge thank-you.
But the "greatest jazz singer of all time?" No way.