AKA Facebook Made Me Do It.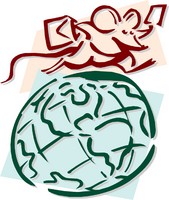 Last night, I came home from a particularly demanding two-hour dance rehearsal and ended up yapping on Facebook instead of assembling my research for this morning's intended post (see yesterday's entry). I really hate admitting that other "things" are getting in the way of my precious RtB time, but the big weekend is starting to close in on me. There is much to do. It was close to 9 p.m. when I got home, and after chatting with the Thriller for a bit, I parked my bad self at the box and didn't move for almost an hour. Now I am behind the proverbial 8-ball.
Mavis…..HELLLLLLP!
But I really shouldn't complain, so I won't. BoomR arrives tomorrow night, and we're spending all day Saturday in my classroom, where he is going to train me on Logic Studio. I've been waiting for this for months — exciting! And tonight, Mavis and I are cooking/baking up a storm (she just doesn't know how much yet, heh), and Justin and Jake are coming to visit for a bit as well. All that after I get some shaggy hair chopped off my head. Some last-minute cleaning will round out the night, and then it's off to school for one more day before the weekend kicks in. So no complaining here.
Rather, I would just like a few more hours in the day.
FO