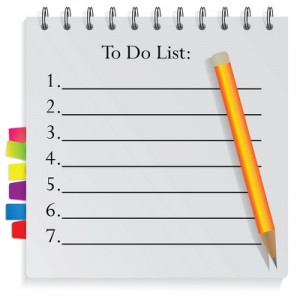 I think I need one. It's my first official day of summer break, and I'm experiencing the familiar jittery feeling of being "at sea." Adrift. Purposeless. Confused about which thing to do next.
J'ever get that way? Each time I've tried to make a list, it's ended up in varying stages of mild success to abject failure. I grow tired of the list, I lose the list, I start the list over again, or I simply ignore it. Why am I so disciplined in other areas of my life, but in the areas that really count (to me, anyway), I'm terrible?
I've always believed it's a matter of self-discipline, and shame on people who can't control it (e.g., me). It's somewhat of a self-fulfilling prophecy merry-go-round at times:
I should make a list, but if I do, I'll end up not following through with the tasks on the list, which will make me feel like a failure, for which I'll say, "If I'd just be disciplined enough to follow a list of the things I need to accomplish, I'd accomplish them," only to make the list and end up not following through with the tasks on the list, which will make me feel like a…
Yeah.
Still, I do not give up the fight. I could just, say, not make a list and simply attack the jobs that need to be done as I think of them. Hmm, I guess so. But I'm lazy, I think. I've discussed this phenomenon with the Thriller on many occasions. He calls me a "big picture thinker," as I struggle with breaking down big tasks/concepts into little pieces (lists?).
For instance, I'll think to myself, I have got to clean this house, ARG! Yikes, huge task, and I'll often say, "Well, I'll clean this house later — for now, I'll read that article." If I ignore it, it goes away, see? I need to just buck up and get going. I'd rather write a 20-page treatise on the dangers of GMOs in our food than iron those blouses or clean the bathrooms. 

All right, stop complaining. I have to go make a list. What goes on it today, I wonder? I know: everything. Just do everything.
Oy.