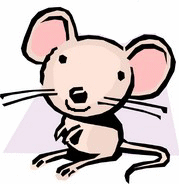 I like stuff. And I think it's good to make lists of the things you like (OK, it's fun to make lists of things you hate, but let's look on the bright side of life today, shall we?).
(More)Things That Make Me Happy (in random order)
Marshmallows. Fluffy, yummy goodness. They're among my favorite candies to eat. And shoot. (Now about that launcher…)
Palindromes. Cool ones, like Do geese see God? and Satan, oscillate my metallic sonatas!
When someone posts a comment on RtB.
In-tune singing. Can't be overrated.
Cherry pie filling. The no-sugar-added kind, right out the can.
Fluff. Mixed with #5. Awwwww maaaaan….dass beautiful.
When Jakey comes to visit.
A good book on a cold night under a warm blanket.
Musical theater. Most of the time.
Hearing Lars laugh.
Going to breakfast with good fiends, and….
Reconnecting with old ones.
I wish I could add "getting ready for school" to the list today, but alas. And it's not the going to school part. It's the getting ready part. It simply takes too much effort to get this face prepared for safe viewing by the general public.
Oy.