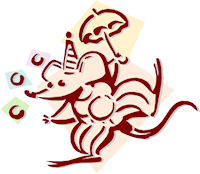 Yesterday's post: now that's what I'm talkin' about. Comment love! Makes me vur vur happy. I take all of you into a big bear hug. Yay! You guys are great.
Actually, the happy factor is a bit of a struggle on this Monday morning. The Browns continue their losing ways, it's 5:05 a.m., and it's going to be an insane week. But once I get through Wednesday night the 14th, it's smooth sailing through January. That makes me want to put on a pointy party hat, grab a cute little parasol, and do a dance while juggling one-handed.
Poor Justin was sick with a fever over the weekend, so Grandpa Thriller and I took Jake Saturday night.  We were busy. First, we drove around and looked at some Christmas lights:
Then we went home, and he made a bee line for his usual activity of choice: our little Casio digital camera. I got it away from him long enough to take a long, leisurely bath, but afterwards, he was back at it:
Of course, he wanted me to get in on the act, so I grabbed the phone and we both took pictures of everything from Aunt Mavis's Christmas gift to Rousseau sleeping on the floor to the box fan in his bedroom. Then we sat down and compared photos. I'm definitely going to try and get a picture of his face on Christmas Eve, when he opens the box that contains his very own digital camera. Good thing we have extra SD cards. Ha.
The final game of the evening was "Jake Plays Silly Things on the Piano While Grammie Dances." I think that was his favorite…
And then we were both worn out. It took him about 3 minutes to drift off. It was a great visit, ending with hot chocolate with BFF Kay at Starbucks on Sunday morning, where we met up with Jake's daddy, who took him home.
So, here we go, and let the circus begin. Nine days of madness; I can do this.
FO