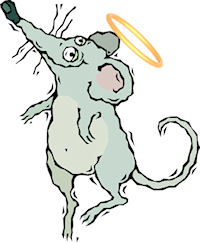 "If you can't say anything nice, don't say anything at all." So I will be very good and refrain from commenting on how I feel this morning about the coming week.
Instead, I'll ask YOU about how your weekend went! Did you get everything done? Are you happy it's Monkday? Are you filled with dread?
Last night, we celebrated Bob's birthday. It was a fantastic party, with great food (and the cakes went over well, whew what a relief), and fun people (about 20 or so). I actually got to spend time with my own children — how about that? The Js were there too, which was a highlight for me. And I must comment on their wonderful behavior, given that they were in an enclosed space for two hours without being able to go out and play (it was raining). Jake didn't hit what Hannah calls "the silly wall" until just before it was time to leave. So proud of both boys, yay.
The birthday boy had a grand time, I think. Don't you think the mug bears a striking resemblance?
Once again, hope you had a good weekend. I'm late for the showers and the road. Where'd that weekend go anyhow?
FO