Fiends: I'm test-driving a new comment plug-in. Could you give it a go if you have something to say today? Thanks, and sorry for the problems of late…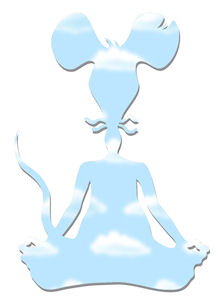 The first eight went by pretty quickly, filled with lesson planning, house cleaning, dealing with contract negotiations issues, laughing on text and Facebook with family and friends, catching up on some TV shows, playing with Remy, missing my grandsons, watching the daily press conferences by the governor, cooking, and reading. Lots and lots and lots of reading — mostly about COVID-19.
I keep the coronavirus live updates page on CNN running 24/7 on my browser; it's become somewhat of an obsession. If I see a number next to the tab, I know there's a new story to read. Unlike some of my friends, I never tire of reading about this crisis. It doesn't wear me down at all. Rather, with each story, I'm re-energized to keep doing my part, and to encourage others to do theirs (don't get me started).
FYI — I'm calm, and feeling fine; no symptoms of any kind. I'm confident that so far, I'm dancing out of the way of this thing.
The downside, besides no contact with my sons and grandsons? I can't ride my new bike. Devin, one of my students (and a 2020 graduating senior for whom I'm heartbroken), came over and put it together for me, for which I'm eternally grateful. Since that day, I've just looked at it. I got on it once and tiptoed around the garage floor on it, but it's been either raining or cold (or raining and cold) almost every day since, so no ridey-ridey. Blah.
Remy and I have had a great time bonding through this. I think he can't believe I'm actually not walking out the door every morning. His routine has been disrupted, but I'm pretty sure he likes it. It's worked out well, since my sons aren't visiting, and sister Mavis (his adored caregiver while I'm at work) is unfortunately laid up in the hospital with pneumonia right now.

After dinner last night, we ventured to the park for a walk in the windy, 29-degree temps. It felt more like -29, but he loved it. Wore him out and paralyzed my face. I'm not sure what the weather calls for today, but I think we'll give it another go this afternoon. It's good for both of us to get out.
I can't remember a time when I was alone for this long. Isn't that funny? Even when I'm traveling solo, there's always company of some kind, on a train or plane, or in a taxi or bus or restaurant. I don't mind it, but it does highlight the Thriller's absence in a big way. What I wouldn't give to be kicking his butt in Scrabble right now (after which he'd kick mine in chess).
I hope you're all handling things as well as you can, and that everyone in your world is healthy and safe. Let's try to keep it that way!
Much love.