I don't know how I found it last night, but somehow I ended up on some guy's Flickr site about transistor radios. It was a walk down Memory Lane.
Back in the early 70s (around '70-'73), Mavis and I would spend our entire summers at "The Pond" in Brown Deer (a suburb of Milwaukee) where we grew up. It was a manmade lake, complete with trucked-in sand for a beach. If you could swim to "the raft" — a stationary platform in the center of the pond where the lifeguard perch was located — then you had truly arrived, and they'd let you swim in the "deep end," which was all of six feet. (I cannot BELIEVE I found a group of people on Facebook who started a BD Pond fan page! Ka-RAZY. Of course I joined, and so did Mavis. We had a huge laff.) Our parents bought us each a transistor radio to take with us. We used them everywhere, especially in our bedrooms.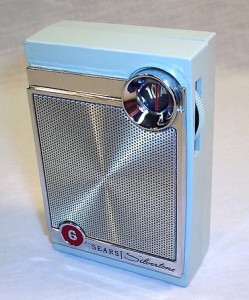 I specifically remember putting the radio under my pillow and listening to WLS or WOKY play a list of Beatles tunes in the spring of 1970, when Paul "officially" left the group. I was so sad. The last song they played was "The Long and Winding Road," and it was late (probably like 10 p.m., but to me it seemed like the middle of the night). I knew I'd be in a world of trouble if Mother walked in and caught me awake, listening to the radio. I loved that radio. I can't really recall exactly what it looked like, but it was something like what is pictured here (cool photos courtesy of the aforementioned guy). It's likely close enough; our parents bought everything at Sears.
Dad had one of these in the garage. When he'd do yard work or work on the car, he'd listen to Cubs games on it.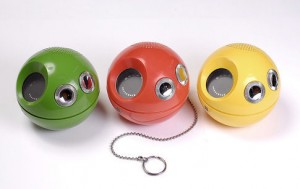 And I can't remember if I had one of these mod round radios or not. I *think* I did…Mavis, did I ever? If I didn't, I know I always wished I did.
We didn't know thing one about sound quality; highs and mid-range and what have you. We just knew that we could take these little jobs to the Pond and spend all day singing along to "It's Too Late" and "Maggie Mae" and "American Woman" while we nursed our intense crushes on lifeguards named Reinhardt, Jeff and Bob.
Good, good times. *sigh*
Happy Monday — off to another insane week.
Fink, all nostalgic