I've listened to Edith Piaf's music for years, but not actively. I mean, if I heard it on the radio or a commercial, I'd know it was her voice, but I never paid it much mind otherwise. Then I saw La Vie en Rose last night on Netflix. Wow…what a life she led.
French actress Marion Cotillard was positively fascinating to watch; she carried the entire film. I'm obviously not alone in that assessment, as she won the Oscar for Best Actress for the role back in 2007.
Born into poverty, the daughter of a circus performer dad and an alcoholic mother who fantasized about being a singer, Edith was sent to live with her grandmother, who ran a brothel. She later joined her father in the circus, but returned to street life with him when the work dried up. Soon, she herself was performing on the streets for coins, and began to draw crowds. One thing led to another, and when she was taken in by a wealthy club owner who'd heard her as he was walking home one night, her fame was assured.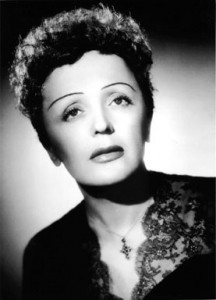 Then came one horrible tragedy after another. Though she was the most popular artist in all of France, and had taken New York by storm as well, she couldn't escape immense sorrow and devastating personal choices. One particular 1949 event basically destroyed her for good, haunting her every thought until her death in 1963. It was both heartbreaking and captivating to watch; I recommend it highly to you, mes amis.
In French with subtitles, it runs 2:15, but you'll never notice the length. You will notice, however, that even though Edith stood only 4′ 8″, the 5′ 8″ Cotillard completely pulls off the ruse of  "little sparrow," as Edith was dubbed by her wealthy benefactor.  Cotillard  had some cinematic magic help, of course, but she managed to channel the frail, diminutive Piaf to perfection. Color me très impressionné.
On the Rat-O-Meter scale of five cheeses, I give La Vie en Rose: