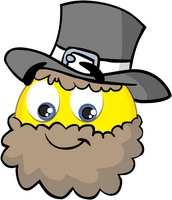 I appreciate this week a lot.
It's short, schoolwise
I get to see family (Johanna flies in from Austin this morning, yay!)
Mavis, the daughters and I get to tear it up in the kitchen
I get out my Sinatra and James Taylor Christmas CDs
I can watch the Lions lose instead of the Browns
I get to start wrapping all the gifts that will arrive over the next couple of days
My v-jazz group has a gig on Sunday; should be some fun
The thesis gets its finishing touches, then off it goes for the final time, never to be thought about again in my lifetime
I get more time with Jake and Justin
No 5 a.m. alarm going off (except the one in my head, which I can choose to ignore)
Now that's a dandy week, say thankya. What's your vacation look like? (RD and Greg, I know your answers: every week is vacation…)
Here's to the start of a fantastic — hopefully short for all of us — work week.
FO