…but they're only in it for themselves.
Say what you want…
…but it's the nose and mouth. Something about Maggie Gyllenhaal has always, always bugged me. Throughout The Dark Knight, I just felt…I dunno…out of sorts when I looked at her. She was distracting to watch. Anyway, last night I saw (and was bothered again by) a picture of her on the New York Post website. I then decided to find out what exactly it is about Maggie that makes me go, "hmm, somethin' be off."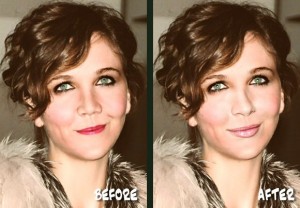 So I quick-and-dirty Paint Shopped Ashley Olsen's nose and mouth onto Maggie's face, and air-brushed those mighty mighty cheek craters. I must say, the result was actually pretty. I arrived at my answer. A little rhinoplasty here, a little lip collagen there…just a little is all. Like salt.
I know, I know…you all like her just as she is, because she's "cute" and not a "standard Hollywood plastic beauty." Come on, Dad, just having a little fun here.
In fact, wanna see what I'd look like morphed with Brooke Shields? My eyes, her eye color, brows and lips, and a combination of our noses. In other words — mostly her. I'd take that.
Or how about me mixed with Al Pacino?
Heh. I love that site.
Fink out.