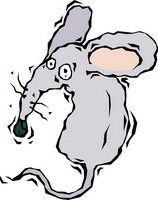 That's how I feel today. Just a lil skeevy. But I think it's good for me. Stress keeps me paying attention.
I think sometimes that I allow things to stress me because I'm disorganized. Er…I mean, my disorganization causes me stress. Anyway, you get it. The Thriller has long known this about me, and has, on occasion, tried to change my behavior to decrease the likelihood of a massive flipout.
He's still working on it.
He is a list maker (as is sister Mavis). I've made lists before, but then I lose them. Or they just sit on my desk/in my pocket, and are eventually buried underneath some new thing or list or printed-out journal article; or I pull a list out of my pocket and say, "Hm, that's old," and throw it away. Why is that?
It frustrates me that I have the intellectual wherewithal to devise a list of important tasks, but not to execute one. Actually, it's probably not so much intellect as discipline. Arg, the D word. I hate it.
I'm going to take one last shot at it, just to prove I can do it. Here goes. In the interest of accountability, here is my list for the weekend:
UPDATE 5:13 p.m.
3, 4, 5, 6 and 8 are done. How bout that.

Copy horn parts for tomorrow's rehearsal.
Finish introductory stuff on thesis.
Go to the grocery for Seamus's birthday feast.
Make score edits before rehearsal at 2 today.
Go to Wally to buy the rest of a birthday gift or two.
Text orchestra members to remind them about tomorrow.
Clean the upstairs bathroom.
Call DQ to order the ice cream cake.
Drop off bakery order for next week's tech rehearsal. (NEXT WEEK IS TECH REHEARSAL. Oh dear.)
That's it so far. What's on your list for today? Do you make lists? Do they do any good? I'm still waiting for the magic to happen here.
Nothing so far. Feh.
Happy Saturday!
FO