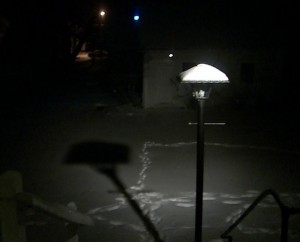 …and on sidewalks, driveways, and streets in my town. I love the quiet.
I don't love the missed rehearsals the day before a concert, however. This was going to be our last one. Oh well…we do what we can, and hope everyone enjoys it. My normal reaction would be to flip out and stress and get all apoplectic about it, but I'm trying a different approach this year. We'll do our best, and hope everyone enjoys it. And that's the ticket. My mantra for this performance: Let it go. It's all good.
Worst part about snow days? I can't go back to sleep like seemingly everyone else can. Hiss. But hey, there's always Netflix on the TV and my electric blanket (yes, I have an electric blanket on the living room couch because the Thriller is awesome), and coffee and my Nook and the Christmas tree lights. What's to complain about? Feh.
Yesterday's chocolate craziness was ten kinds of fantastic. We made all the goodies and set them out on the sideboard in the dining room. Then we all "went shopping" and filled up our goody bags and gift boxes with stuff to give away to family and friends. This is becoming a yearly tradition — what fun!
Speaking of fun: off I go to not stress about tomorrow night.
FO