Going through closets for clothing donations
Cleaning bathrooms
Emptying the oak desk in the parlor of various and sundry junk that should have been thrown out long ago
Dusting
Brushing the dogs
Lesson plans and shopping for fall music
Watching Game of Thrones and Penny Dreadful on DVR over coffee
But here it is, 8:30 a.m. and I'm still entertaining myself by reading about the Cavs, looking at videos and Vines and tweets, and basically trying to relive that moment on the couch last night, when I covered my eyes as Kyrie Irving took his own version of "The Shot," basically sealing the deal in the final 10 seconds of the game. I stared in numb disbelief at the TV screen as the clock stopped and LeBron made that foul shot, and as time started again and two Warriors in a matter of two seconds missed 3-point attempts. Only this time, my numb disbelief wasn't rooted in the tradition doomed to repeat itself year after year, when Cleveland teams either lose early on and never make the playoffs, or make the postseason only to either get swept or endure heartcrushing defeats like The Drive, The Fumble, The Catch, and Red Right 88. This time, I watched in dazed amusement as an actual Cleveland sports team rushed the court, and as grown men fell to the floor, crying for joy.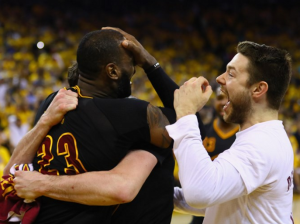 The Comeback.
Surreal.
Only three times since the NBA Finals began back in 1947 has a team won Game 7 while not playing on their home court. The Celtics won Game 7 in LA in 1969, and again in Milwaukee in 1974; in 1978, Washington won the seventh game at Seattle. Three times — until now.
I'll get to the list of tasks at some point today…or maybe not. I might just make more coffee and enjoy a bit more of the shock. I imagine there are a lot of Cleveland fans running on extra java this morning. That's OK; they've — we've — earned it.