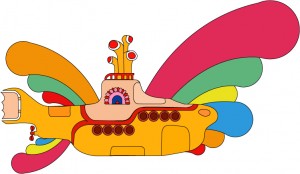 That's kind of what I feel like this morning.
I spend my time under the surface, coming up into the air when I need to refuel or check in. I do enjoy the checking-in part, and I feel incomplete when I go a day and haven't done it.
When I first started this little area of the world in February of 2008, I vowed for the first year to write something every day. From the 1st of March 2008 through 28 February 2009, I made good on that promise. Looking back on some of those posts, I see that I need to go underwater for awhile and do some more fun research.
I researched interesting topics a lot more back then. Since that time, RtB has evolved into more of a conversation with my fellow humans, which I like, and I miss it when it doesn't happen. I enjoy the other stuff, too, but life being what it is, I will likely save it for the summer, when I have more time to be adventurous with search engines.
And with that, I am out of time and out of here, except to point out that my hapless Indians went out in signature style last night, to the White Sox no less, getting shut out. What a way to end the  season. Welp, there's always next *bAnG* 
:-/