Is it three days later and we're still in Texas? Um, yep. Texas, she is a big state.
After a long, long, long nine hours driving through nothing but this: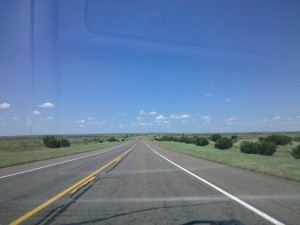 we finally made it to Amarillo around dinnertime. Don't get me wrong — we loved this gorgeous, wide-open expanse. Northwest Texas is much different from what I imagined. Much greener.
Along the way, we'd go through small towns so remote, we'd wonder out loud, "Where do these people shop?" Talk about rural, yikes. But it was all beautiful.
We had a great time at the Big Texan Steak Ranch. Excellent steaks and shopping, and we got a ride in a silly, over-the-top-Texas limousine to and from our hotel (Big Texan offers it as a free service to all Amarillo hotels). You can see photos of it on my Facebook page, and if you're not on FB, send me an email and I'll send you a link to the pictures.
So as of today, after our fantastic Texas adventure, we're officially back on the Old Road. Breakfast at IHOP (because I haven't eaten there in 20+ years), then we hit the trail to Gallup, with lots of leisurely stops in between.
Back at ya from New Mexico!
FO