So yeah, we had our family Christmas gathering last night. A fabulous time.
As we ate, laughed, opened gifts, chatted, bawled and laughed some more, I was reminded of a comforting truth: in spite of all the hardships of money (meaning not enough of it), time (ditto) and general craziness that comes with having what I call a large family in scope if not in size … I am blessed in a big way, due in no small part to the wonderful women who I am honored to call my daughters. We had a "girls' photo" taken before everyone scattered, and I am going to have it framed.
[You know I am happy about getting together for a photo if I post a public picture with me in my glasses and not contact lenses. I need to get frames like Helen's, so I don't look like the aging school marm that I am. Mercy.]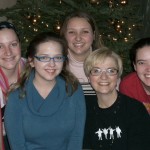 My wish is for every mother-in-law and stepmom in the world to have caring, funny, intelligent and cool daughters and daughters-in-law to bless them.
Only downside of our Christmas this year: we have to say goodbye to Johanna, who will move to Austin, Texas tomorrow, where she will attend grad school, work for the IRS, and do great things — guaranteed. You heard it here first.
Still, it was a fab time last night, and everyone had fun — including Jakey, who loved his new toys (although Rousseau wasn't too sure about them).
Now it's on to the reality of studying, studying, choreography, studying and choreography. Play time is over.
Arg.
Fink out.