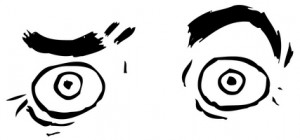 They all go awry sometimes. I was supposed to be out of town for an appointment today (instead of attending a county-wide teacher inservice), but what's this? ANOTHER attack of plague? What the world is going on here, fiends, I ask you.
At least this isn't the erpy kind I had last weekend. But fever? Uncontrollable cough? Sore throat? Teeth chattering? Limbs falling off? To what end, this suffering?
OK, enough whining. Rehearsals actually weren't that painful this week. There may be hope. And hey, it's both Finkday and payday — that can't be all bad, now can it?
Happy weekend! I'm off to the couch…