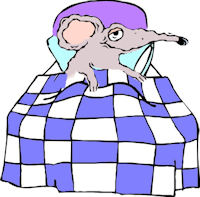 …to the one I love to torture most: me.
Today, Saturday, 14 April, is dedicated to getting myself over this epidemi-whatever-it-is. I brought my Nook downstairs with me (it rarely leaves my night table). I'm staying in my jammies and doing lots of reading, thinking, napping, and sipping tea. I'll watch some tube, and write some emails.
And speaking of work issues…I'm about at the end of my rope. I hope this coming week will sort out some stuff, one way or the other.
It's a good day to be stuck inside (stormy, but not too chilly). It's a toast, applesauce, tea and scrambled-egg kind of day. Only thing missing will be family time.

None of that for the Fink today, since my grandsons are already both fighting this, my children are probably crazy busy, and sister Mavis doesn't dare be around anyone with an upper respiratory illness. The Thriller has class all day, poor soul. I can hear him downstairs in his office right now, swallowing coffee by the quart and hacking up both lungs.
What a pair we are. Haha
Have a great Saturnday, my lovely fiends. I am off to read and think and plot courses. And I ain't talkin' about golf.
FO