I've tried one, but not the other. Yet.
A couple of weeks ago, Mavis and I were in Wally, doing some grocering. We were both thirsty and talking about getting a drink on the way out of the store when we happened upon a center-aisle display of something called
Sparkling Ice
, in tall, slim, attractive bottles (about the size of the old fashioned Pepsi bottles we used to buy) for a dollar each. Have you tried it? We each bought one and boy, were they tasty.
I ended up going back this past weekend and getting more — one in each flavor (except pomegranate…ick). For someone who hates plain water, this is great. Slightly sparkling, a small amount of sucralose, and jacked with some antioxidants. Fantastic. I say go get some if you're up for a change of pace.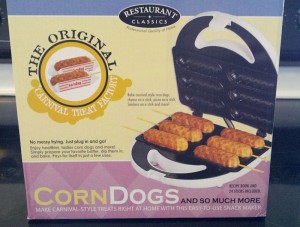 Last week, I ordered some stuff for a baby shower I'm attending soon. One of the sites where I placed an order was hawking a deal on a corn dog baker — that is, you can have your corn dog
without
 deep frying it. I thought, "Hmm. Worth a try for that price," so I bought it. It arrived Saturday and I am looking forward to trying it tonight.
Have you used one of these? If so, how did you like it? Amazon customer reviews seem pretty positive. Anyway, I bought some cornbread mix and a package of 98% fat free turkey dogs; we'll see how the slightly-more-healthy version of this yummy county fair treat works out.
Aaaaaand it's Monday. Cripes…