For the first time since July 4th weekend, the Cleveland Indians won two games in a row. Let's bow our heads for a moment of thanks. Last place in the division, worst record in the American League — you'd think something would have to give.
~
Suffice it to say that there are just a few problems over at E. 9th and Carnegie. I hate it when people are really, really right.
Ah well. At least we have the Browns season to look forward to. That, and there's always next year. Heh.
So in brighter news, the Thriller and I are taking off tomorrow for a much-needed getaway for some fun at Greektown in Detroit. He got two free nights in their brand-new hotel, and a bunch of free food. Free food is good. Anyway, we leave tomorrow and will be back sometime Monday night or Tuesday. Should be fun.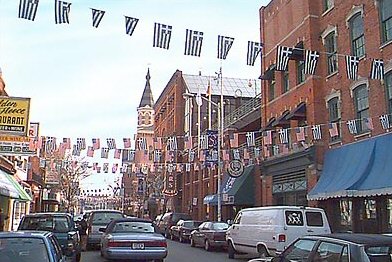 I like Greektown because of its location: dropped right in the center of, well, Greektown. There is a wonderful ethnic/historic feel to the street outside the casino building. In the days when we used to park in a nearby garage and walk to the casino, the area was filled with the sound of Greek music (piped out into the street by huge speakers mounted somewhere above your head), and smells of what I am certain was all manner of exotic Greek cuisine from restaurants with names like Pegasus, Laikon, Plakas and Parthenon.
And there is no shortage of Olympic opulence in the hotel. The lobby is a knockout all by itself.
So here's to a happy weekend for all of yous. I'ma go make coffee.
FO
Photo: casinocritic.blogspot.com