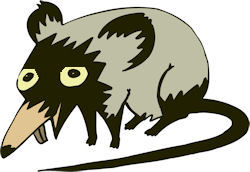 I swear, Rousseau knows when it's Saturday. He knows when I don't set my alarm for 5 a.m., as that's his cue to make sure I get up to take him outside at five.
Oh, well. I have to be up anyway, because today is fingerprinting day. No, I haven't been arrested (yet). I have to renew my teaching license one final time!!!  :-), so off to the Sheriff's Department I go for the obligatory processing and FBI check. 

Good part about that: Mavis and I get to have a long-overdue palaver. We'll do some grocery shopping together, then have breakfast while the Thriller gets the Finkmobile's oil changed. Then the work day starts, but we won't talk about that right now.
Let's talk about Little Shop of Horrors. Excellent show yesterday, followed by the best part: lunch in my room. The day was enjoyed by all, and I was very proud of my students, who dressed up beautifully and behaved with great class.
I will never understand the sight of high school students showing up to a theater performance in pajama pants; yet, it happened. Call me a relic, call me what you will. Say I'm old-fashioned, say I'm over the hill. I care not.
So I taught all of one class yesterday, then came home to run errands with the Thriller. We have a house guest for the next three weeks, while Kay and Bob are in Slovenia. Drago (or, as I prefer to call him, Drag, the Impaler on account of how he likes to demand that you pet him by digging his little claws into your arm) is an awesome pup who gets on Rousseau's everlast nerve, as pups are supposed to do. He is a wonderful addition to the household, and provides lots of laughs.
I find it hilarious that if we are eating chicken, cereal, or peanut butter sandwiches, the dogs have no interest in what's on our plates. But beef tips and gravy over noodles drives them absolutely bonkers, and forces them into decidedly un-gentlemanly behavior.
How rude, truly.
So, what's your weekend update? Do tell, as I always covet your articulate and compendious commentary. I'm off to the big house to get booked for future crimes against education.