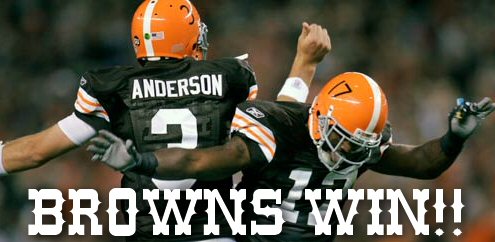 That was worth staying up late for, and dragging it out of bed with even less sleep than normal.
When all hope was just about lost, and when the season was on the line in game 5, the Brownies pulled it off. They beat the undefeated Super Bowl champion New York Giants. I collapsed on the floor and sobbed.
Whether or not the season falls to crap from here on out, or if we're relegated (once again) to saying, "Meh, maybe next year" come December, this one will still have been fun. The Browns have stunk up the joint on national TV for several years running now; it was nice to see something positive for a change.
So shines a good deed in a weary world.
FO
Photo credit: clevelandbrowns.com