…of which you speak?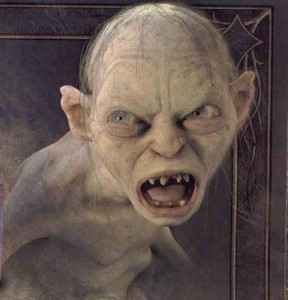 Last week, an intern was brought on board for one of my web clients. And lemme tell you something, fiends: webmasters are worse than sopranos and toddlers. As soon as her name was announced, I began to think selfish thoughts. Is she here to take over? Are they making me share my toys? Thinking about replacing me? Firing me? Giving me the old heave-ho, because a younger, prettier version was found?
They comes in and wants to take the Preciousssssssss — wicked, tricksy, false
*SmAcK* I really just need to learn to delegate. Those of you who know me know I'm terrible at it. I'm convinced it comes from a long history of self-doubt and fear of rejection. I'm a big fat neurosis smorgasbord, that's what I am. As the Thriller is wont to say, it's enough to pi$$ off the Pope.
How do you handle it? How do you relinquish your iron hold on things? I know there are people around me who are plenty capable of doing what I do — ain't nobody irreplaceable. But it's the initial releasing of the death grip…just…can't…do it…ARRRG
Of course, I don't know anyone else with this problem *coughCOUNTRYMOUSEcoughBANDOcough*, so I guess I'm in this ocean all by meself; lonely, no one to talk to, miserable.

Filthy little hobbitses…